Bahia Turf Grass, Miami & Homestead FL
Sod by

Jeny Sod
Are you looking to transform your backyard? When it comes to laying turf, you want to ensure that you are choosing the right style to guarantee your lawn looks fantastic all year round. As one of the leading providers of Bahia Turf Grass in Miami, FL, we know how important it is to choose the right style of grass for your home.

Bahia Turf Grass in Miami, FL, is one of the most popular choices for homeowners facing intense heat each summer. Our highly experienced team is able to expertly install the lawn in your home, helping to transform your backyard into a beautiful space for you to entertain family and friends in.
When it comes to finding the right style of grass for your home, Bahia Turf Grass in Miami, FL, is a fantastic choice. Originally coming from South America, Bahia Turf offers incredible tolerance to heat and drought, making it a very popular choice for use in Miami.

Bahia Turf Grass in Miami, FL, is used extensively in both residential homes, agriculture conservation, and programs focusing on erosion control. Thriving in warm conditions, it is most commonly grown during the late springtime and into the hot months of summer, but it can grow in abundance all year round.

The grass itself features roots that grow very deep into the soil. This gives it its fantastic draught resistance, with the grass capable of growing in even the sandiest of soils. Bahia Turf Grass in Miami, FL, is also a very coarse type of grass, which helps to add its durability and strength.

Not only can Bahia Turf Grass in Miami, FL, withstand extreme heat and low water, but it is also very tolerant against pests and insect infestations. Thanks to its short blades, the grass is able to remain looking fantastic throughout the year. It also offers very high seeding, ensuring once planted, it can thrive on your lawn, giving you a full green lawn for many years with very little maintenance.

When it comes to maintaining the Bahia Turf Grass in Miami, FL, it is a very low-maintenance type of grass and only requires trimming every two weeks to ensure it maintains its visual appearance. During the cooler winter months, this extends even further, and your lawn will only need cutting once a month at most.

Should your grass start to brown or die, then a quick water will completely revive your lawn and return it to its beautiful green appearance.
If you are looking to transform your backyard, then our team is here to help you. Bahia Turf Grass in Miami, FL, is a fantastic choice for homeowners and large commercial property owners alike. Its high durability, alongside its incredible resistance to heat and drought, means it is one of the lowest maintenance solutions on the market.

Want to find out how we can help you? Get in touch today!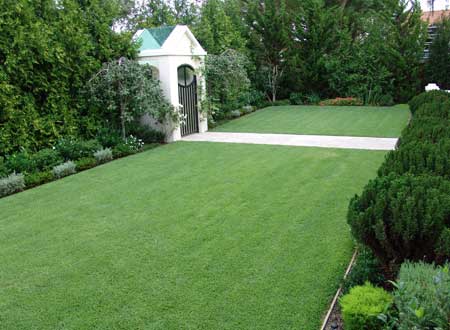 Sod Maintenance
Sod Maintenance in Miami is a major consideration. Great-looking lawns usually require a lot of maintenance, and some grasses will die off if they don't get what they need. You need to consider the following:
* Water – Do you have an irrigation system? Or will you be able to water twice weekly? You also need to think about your water bill, as some grasses can be very thirsty.
* Fertilizer – Some grasses demand regular applications of fertilizer, which adds to the cost and the workload.
* Mowing – How often do you want to mow? Will your budget cover a landscape company?
* Wear – If you choose a grass that wears easily, you may need to re-sod regularly.
* Pests & disease – All grasses are susceptible to various problems that can cause them to die off. It's important to ask about each species of grass you're considering. Will your budget cover a fertilization and pest control company?
Environment
Different grasses are adapted to different environmental conditions. You'll need to know:
* How much sunlight will your lawn get?
* How much natural water do you have?
Usage
* What will the lawn be used for?
* How much foot and animal traffic will the area get? Is it just an attractive landscaping feature, or do you want something that's hardy for kids to play on?
* What season do you want your lawn to look its best? If you're a winter resident, you should consider a cool season grass rather than a warm season grass, though some varieties like Zoysia hold up well in both.
Appearance
Our sod is classified as flawless nearly every single time we install, so rest assured that your new lawn will look great. Just keep in mind these other considerations:
* Do you want lush, thick green grass, or are you happy with something a little more sparse?
* Will your lawn be a backdrop for other greenery?
* Do you care if the lawn has weeds as long as it is green, or do you want that perfectly manicured lawn that's always 99% weed-free and green?
For More Information About Our Sod Services In Miami, FL & Homestead, Please do not hesitate to give one of our Sod Specialists a Call Today!
Sod Delivery & Installation Available!